A New Way to Browse the Social Web
Inside Flipboard / June 30, 2011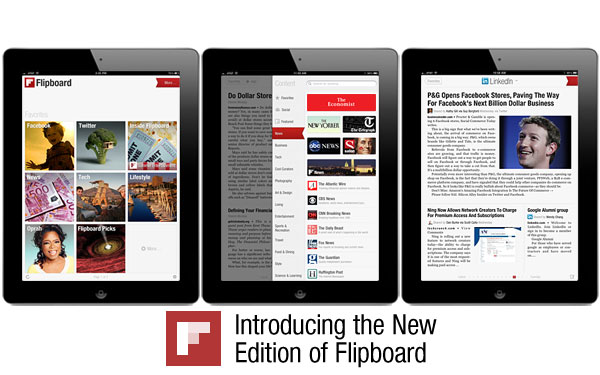 It's a big day here at Flipboard. The new edition (1.5) is out, and you'll see we've made some significant changes that will make it even easier to discover, browse, and share content that's important to you.
So, what's new?
A visual way to search, browse, and favorite social content
There's a universe of beautiful, interesting content available via Flipboard. Tap the ever-present red ribbon in the top right and the new Content Guide slides out, where you can search for any person, topic or blog you're interested in, or simply browse recommended sections arranged by category. Tap Social to connect to Facebook, Twitter, Google Reader, Instagram, Flickr and now LinkedIn (more on that in a bit), and transform your feeds from those networks into a magazine. Find a source you like, and save it to your Favorites for quick access later.
Unlimited Favorites
The No. 1 request we heard from our community was the ability to save more content. So now, whenever you're flipping through a section that you love, you can save it as a Favorite on your Flipboard by tapping the blue "add" button in the upper left. You can see up to two pages of Favorites as tiles on your Flipboard and you can see the rest in the Content Guide. Just tap the "edit" button to arrange your Favorites however you'd like.
Popular stories
We now highlight popular stories in each section based on how often readers interact with them. You'll likely see the red "Popular on Flipboard" label sprinkled throughout Flipboard, and we'll also feature these collections in categories like Art & Design and Living.
Connect to LinkedIn
Log in to your LinkedIn account via Flipboard to turn the updates being shared by the people in your professional network into a magazine. LinkedIn also aggregates the top shared and timely news across more than 30 professional industries (you can find the full list in the Industry News folder), and will automatically surface the three industry sections most relevant to you based on your LinkedIn profile.
Faster immersion into articles
We've streamlined the way you read articles in Flipboard. With just one tap, you go straight to a full-screen view of, say, a slideshow from National Geographic. From there you can keep on flipping to the next article as if you were reading a print magazine (as opposed to having to tap in and out of each article).  You can still close any article with a pinch-out, double-tap, tap on Close button, or two-finger tap.
Read Later
Another frequent request from our community is support for Read Later services. To set them up, tap on the gear (settings) icon in the lower right corner of your Flipboard and supply your login credentials for Instapaper and/or Read It Later.
Let us know what you think
You can send us feedback and suggestions via Twitter, Facebook, and LinkedIn. If you have any technical issues, please contact us via Flipboard Support or support@flipboard.com. We can't wait to hear your reaction and to begin collecting suggestions for the next round of development. We hope you love this update as much as we do.
If you don't see the update right away, it will take a few hours to roll out through the App Store, please be patient.
Best,
The Flipboard Team