Harper's BAZAAR's Elegant Pages Find a Home on Flipboard
Inside Flipboard / September 30, 2011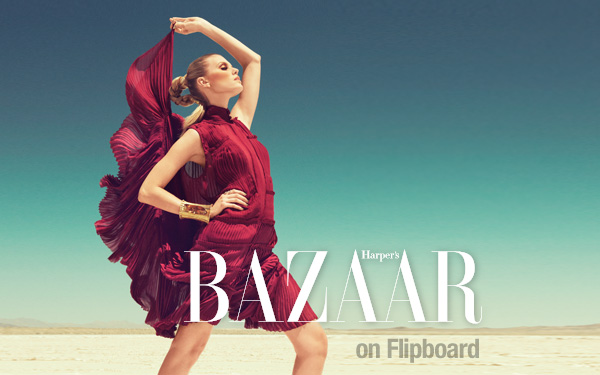 Harper's BAZAAR caters to sophisticated women with discerning taste in fashion, beauty, and culture. With a sensibility that spans casual and couture, BAZAAR is a confidante and companion for women who want to live life more fashionably. Over the years, the magazine has also been home to such legendary editors, photographers, and artists as Diana Vreeland, Liz Tilberis, Man Ray, Diane Arbus, Richard Avedon, and Andy Warhol.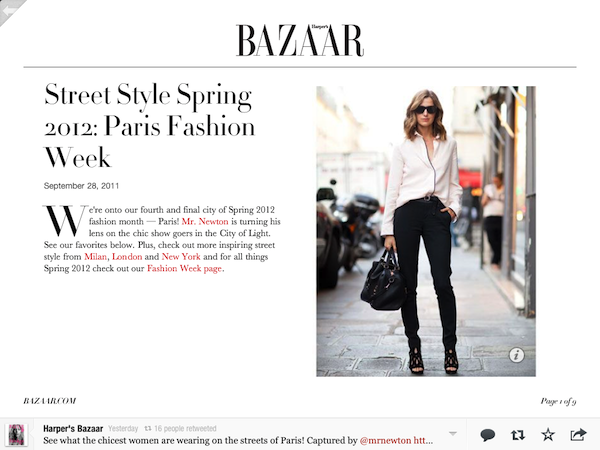 Since there are few better accessories than an iPad, BAZAAR's launch on Flipboard today is a natural fit. As in the print edition of the magazine, the simplicity of the BAZAAR design compliments the sophistication of the magazine's editorial. Photographs pop on clean pages that present vibrant articles on beauty, trends, designers, and gala events. Right now, BAZAAR also gives Flipboard readers a front-row seat to the Spring 2012 shows at Paris Fashion Week.
Add Harper's BAZAAR to your Flipboard today and get ready for a very stylish experience.
~MiaQ
featured@flipboard.com
facebook.com/flipboard
@flipboard