On the Red Couch with The Business of Fashion's Imran Amed
Inside Flipboard / March 19, 2014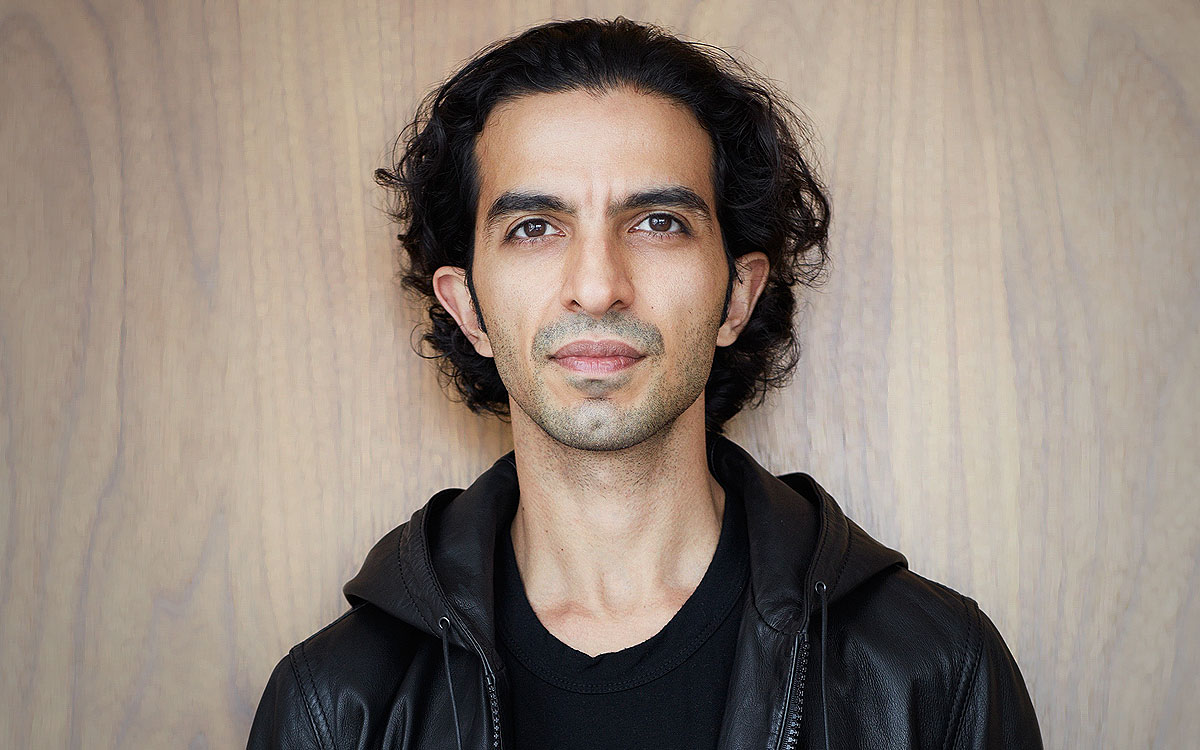 Imran Amed was a management consultant who wanted to apply his analytical skills to a creative field, and saw a hole in the fashion industry that he thought he could sew up. So he looked beyond the bubbly and beautiful people and, from his couch in the evenings, started writing about the big, global, powerful business of fashion.
Today, his site is a go-to resource for news and analysis on fashion's creatives, executives, deals and entrepreneurs. It's even been called "The Economist of Fashion"—a pretty sweet moniker for a publication started by someone with no previous experience in what is already a tight-knit community.

We chatted with Amed from his London office and found out just how this infiltration happened, how technology is changing fashion, which social platforms curry favor with fashionistas these days, and his secret spot for the best street style. The Business of Fashion team also curates a weekly magazine on Flipboard recapping noteworthy news of the week, as well as a magazine called The Spotlight, which showcases emerging designers.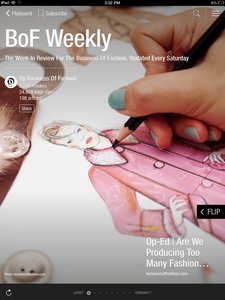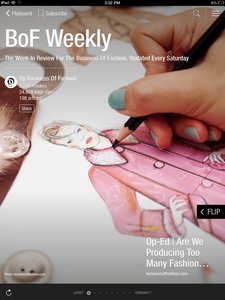 Since you were new to the industry, what kinds of things did you have to learn quickly?
I didn't know very much about the industry at all. But very early on I learned that basically everybody knows everyone. I treated every interaction with every person to be a really important, special interaction, and an opportunity to learn.
One of the things I've kept from my time at McKinsey is operating like a professional: doing what you say, treating everyone with respect, operating with integrity, and apologizing when you make a mistake. I really tried to apply these values into the way that I operate, and over time I think people began to respect that, even if I was an outsider. 

What is the Business of Fashion? For example, what are some of the key issues the industry is facing and how has that changed over the years, especially with technology?
Because this industry has a physical product, it wasn't as easily disrupted as, say, the music industry. There was no MP3 version of a Céline bag. But, over time, technology has really just disrupted the communication part of fashion and the commercial/transactional side of the industry. So whereas the products are still physical, everything around the engagement with the consumer has really been disrupted: the way consumers discover and discuss fashion, the way they learn about brands, the way they make purchases. All of that has really transformed.
I mean, the fact that you can now be a part of a fashion show experience as it's happening — that was once something that was reserved for only a very few people who are part of the core elite of the industry. Some of the smallest fashion shows only have 200 people in the world who get to go to them.
All of a sudden these kinds of images were being beamed out to the universe and consumers all over the world were able to participate, comment on, and discuss these shows. And the fact that you can buy £5,000 handbags on your mobile phone and the next day have them show up at your door…I mean, all of this was unheard of. 

What are some of the themes that you think are going to be prominent in 2014?
I just moderated a panel at DLD in Munich, which is a big tech conference that kind of kicks off the year and we were talking a lot about omni-channel commerce: this idea that mobile technologies enable consumers to have all of the information that they want about a product in the palm of their hands. Even if they're shopping in a physical store, they're able to do price or product comparisons with the same product or similar products available elsewhere or available online.
This idea of a kind of connected consumer who has all this information at their fingertips, 24 hours a day, really means that brands have to step up their game because the way someone discovers and purchases a product now might be that they see something in their Instagram feed and then they might go research it on the Internet, decide to go look at it in a store and then purchase it somewhere else later. So the consumer journey is spread out across so many different channels and being able to connect with the consumer in all of those channels is, I think, going to be a really important theme for the industry this year.
Instagram seems to be one of the main channels of discovery for anyone interested in fashion these days.
Yeah, I mean the fashion industry, as you may know, rejected or resisted social media when Facebook first emerged on the scene, and there were a lot of people who swore to me that they would never use social media. That was until Instagram came along. There's something about the visual nature of Instagram, the simplicity of the user experience, and the ability to have a conversation around images…I've never seen the industry embrace a social media platform like they have embraced Instagram. It's pretty remarkable.
And how is the industry dealing with the upsurgence of "user experts," how someone with not a lot of traditional experience can become a prominent blogger of his or her own volition and hard work? How are they dealing with that?
It's interesting because the first social media that I think the industry really embraced was the blog. Fashion is an industry that communicates in words and moving images and writing, and that was in a way the easiest format of social media that the industry could understand . I think those kinds of platforms have certainly provided an opportunity for previously unknown individuals to showcase their eye or their talent or their way with prose or their point of view and it's been kind of amazing to see individuals who, you know, had no business being around the fashion world all of a sudden become very prominent, as you call them, user experts. At this stage, we don't even distinguish between a high profile blog and the mainstream media—they're all part of a fashion process; it's just a new channel that the industry has at its disposal to have a conversation with consumers.

Who or what do you personally love to read?
I'm a pretty voracious consumer of media, not just fashion media, mind you, but media from the world of technology and business, and other things that I think are just great writing. Most of the media I consume comes to me in my Facebook page or through my Twitter feed, or through my Flipboard exploration. I actually use Flipboard to follow my Twitter feed because it's so visual and beautiful. I follow everyone from The Economist and Bloomberg BusinessWeek to V Magazine to Wired and TechCrunch.
That's a lot to keep up with. How do you unplug?
Meditation — about seven or eight years ago I did a meditation course called Vipassana meditation, which is a pretty intense, 10-day silent meditation and if I'm feeling like I need to unplug or manage stress or anxiety or sleeplessness then meditation is usually my first point of call. Also, just having regular time where I'm not engaging with my phone and having fun with my trainer at the gym — there's no phone. It's really important to be able to just keep that stuff away. And I take holidays. Over the Christmas break I was in Goa in India and I managed to properly switch off for a couple of weeks.
Is there a city that you think is sort of a hidden secret when it comes to amazing fashion, street style specifically?
Montreal. I went to university in Montreal. I would say I even caught the fashion bug first in Montreal because that city just exudes a certain sense of style that is really hard to find anywhere in the world. People there are really individual about the way they dress; they're really confident and bold about the way they express themselves through clothing.
~MiaQ is reading "N.I.C.E. Design"
/flipboard
@flipboard
+flipboard