On the Red Couch with Pretty Little Liars' Sara Shepard
Inside Flipboard / October 9, 2014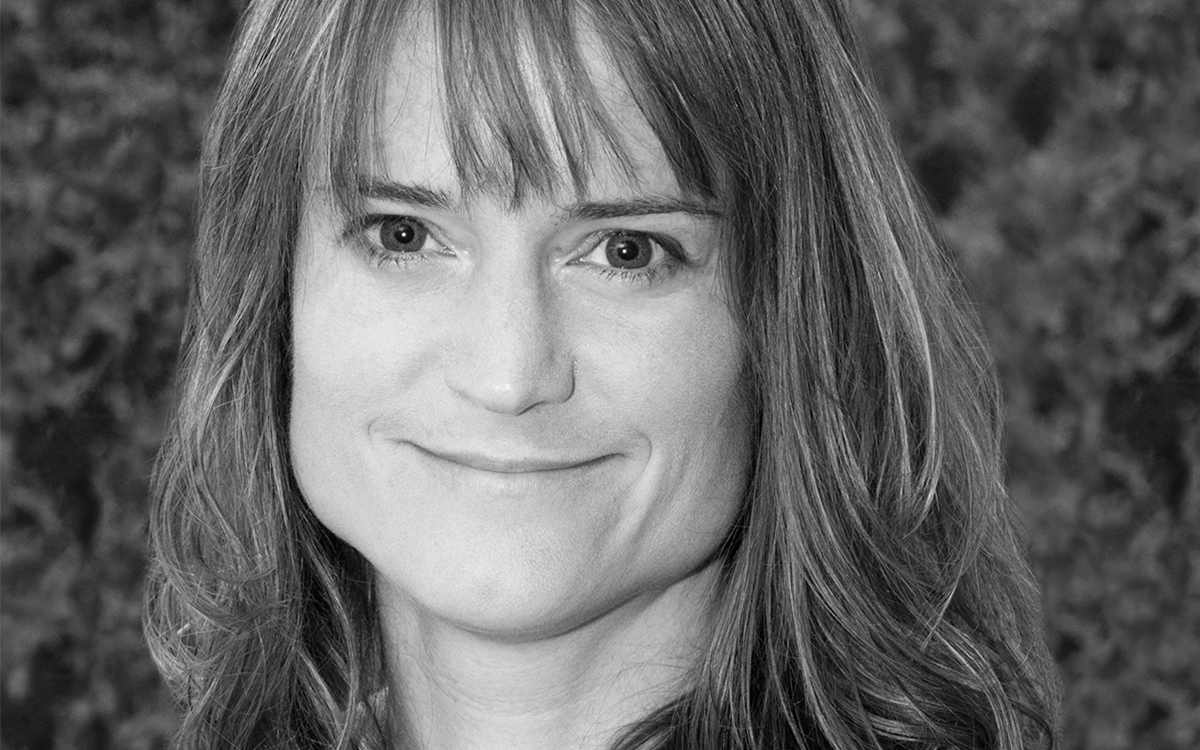 Imagine being sure of your professional calling while your peers played princess and scrambled on monkey bars. "I was one of those kids who didn't really play dress up or didn't play outside," says author Sara Shepard, the mind behind the blockbuster young adult (YA) series, Pretty Little Liars. "The thing that I loved to do most was sit and write stories."
In 2005, her imagination spun "a weird obsession with kidnapped people" into the start of a thriller series that has since catapulted Shepard into the stratosphere of YA writers and spawned a popular TV show on ABC Family. While Pretty Little Liars will officially come to an end this year with the publication of Vicious in December, Shepard's taste for mystery and intrigue lives on in books like The Heiresses, the new The Perfectionists and whatever else she might stir up.
Pretty Little Liars (PLL) is loosely based on your experiences growing up on Philly's Main Line, right? What kind of upbringing did you have?
"Loosely based" is very true, but I did not sleep with my English teacher. I did not have anybody after me. I didn't have a missing friend. I knew two family friends who were kidnapped when they were younger, and that really resonated with me. It was kind of hush hush, and I was pretty young, so I let my imagination take over. And you always hear about family secrets and that sort of stuff. But my upbringing was pretty normal. Rosewood in the book is based on the Philadelphia Main Line, but it's a really stylized, wealthy version of where I lived. We lived in a normal house and I went to public school.
One of the premises of the series is that "everyone has something to hide" and now there are apps like Whisper where you can anonymously share secrets. How might technology play into your story if you were to start it today?
It would be interesting to start it now and have all of these different social media sites. [The character] "A" would use social media to more of an advantage. "A" would be pretty nasty broadcasting certain things not just to the whole school but to everybody. As an example, "A" outs Emily at a swim meet with a photocopied picture of Emily and Maya kissing. There was probably a little bit of Facebook back then, but now it could have been much more extreme. The show uses a little bit more social media than the books do, but, yeah, that's a fun question. I've actually never been asked that.
PLL comes to an end this year with Vicious. What can we expect from the series finale?
I'm thrilled that readers have stuck with the series for this long. When [Vicious] starts out, the girls are not in a good place. I don't want to give away too many details, but they seem pretty doomed and there's a really big twist. I think it's a satisfying end.
It's funny: a long time ago, with book 8, Wanted, I thought that was the end. And then the show came out and it sort of revitalized the series. So I was very sad at book 8 that I was ending Pretty Little Liars, because I was like, "I'm not ready!" But now I think I'm ready to end it. I'm ready to start something new. And I think these four girls, whom I've written about for nine years, have been through too much torture. I have to end it.
What's next?
Well, I have a two-book series coming out [October 7] called The Perfectionists. It's a murder mystery, and I think it's a good followup to Pretty Little Liars. It's kind of similar but it's its own thing with its own unique mystery and characters.
How do you collect inspiration or ideas for books?
I write those down longhand—if something pops into my head or if I read something or if I overhear a conversation. I always watch teenagers wherever I go, and I read a lot. When the series first came out, I subscribed to a whole bunch of teen magazines like Teen Vogue. But now it seems like girls are kind of dressing like adults more and more, so I don't [read teen mags] as much anymore. I used to watch a lot of the reality series that used to be on MTV, like The Hills and Laguna Beach. But now I just I look at comments on Twitter, and I have a couple of neighbors and friends who are young, in high school still, and I talk to them.
Adults now are embracing young adult fiction like never before. What do you make of this trend?
It's pretty amazing. When I started writing the series, there wasn't much of it; Twilight was coming out at the same time. It's kind of wonderful that it's become its own genre. There's so much good fiction that I can't even keep up with all the good stuff that's coming out. Good writing is good writing. I've gotten as much out of good YA novels as I have out of a regular adult fiction book. So I don't think there's actually a stigma about it anymore.
I've read a bio of yours that says that you're a hypochondriac. What's a hypochondriac to do in today's world of flus and global pandemics?
Oh, that's funny. I used to be a hypochondriac. But it was never like big flus that I worried about. It was more like brain tumors—the things you would see on some sort of medical mystery show.
How do you find the time to read as a busy working parent?
I basically read for a few minutes before bed. I used to love to knit. And I kind of had to drop that. But I was like, "I can't drop reading!" There was no way.
Shepard's book, Pretty Little Liars, is available for free download this month from our partner, iBooks, as part of their iOS 8 celebration. You can download the book (and others) via the iBooks pages in this magazine: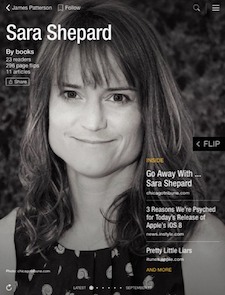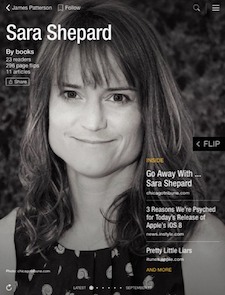 ~MiaQ is reading "R E L E V A N T T"
/flipboard
@flipboard
+flipboard