What I'm Reading: Dezeen's Marcus Fairs
Inside Flipboard / August 13, 2014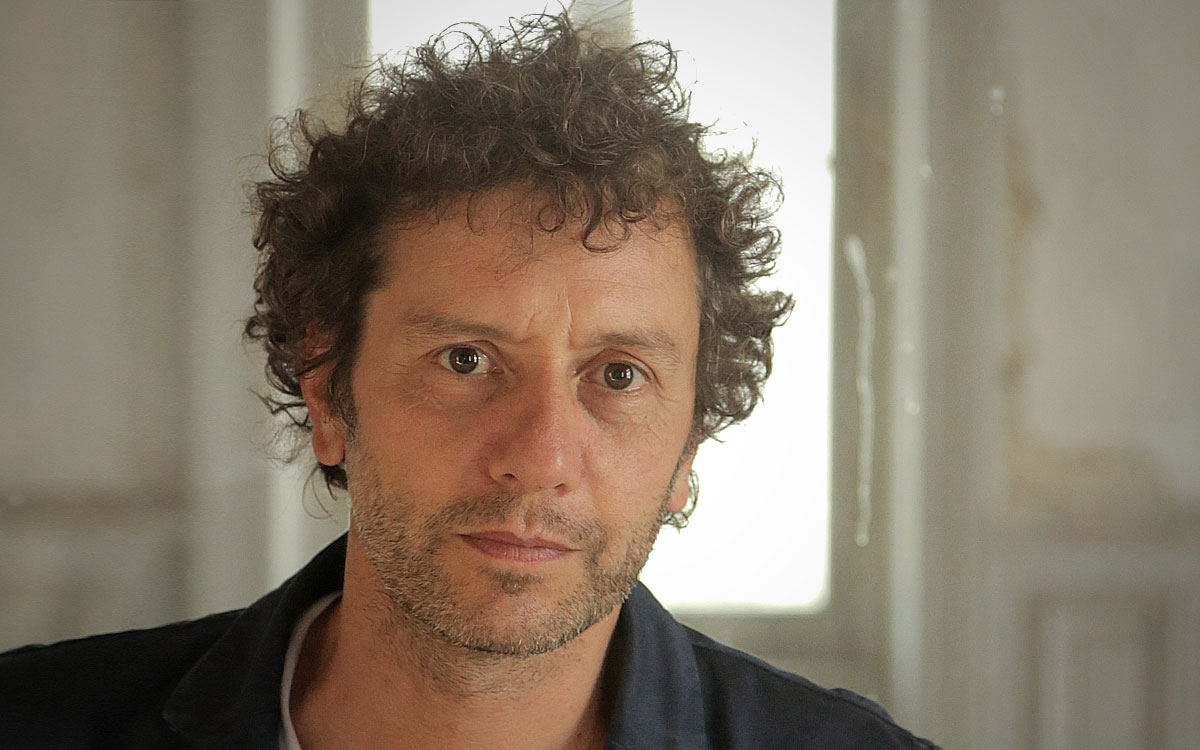 Voted Architecture Journalist of the Year in 2004, Dezeen Magazine's founder Marcus Fairs has an intellectual and instinctive love for objects. After graduating with a degree in furniture design, Fairs went on to freelance for The Guardian, The Independent and Condé Nast Traveler. Under his editorship, the architecture magazine Icon was beloved by designers across the world—and soon Fairs was desperate for a new project.
In 2006, he started Dezeen as a modest blog. Today the web magazine (called "the world's best architecture blog" by The Independent) attracts over 1.75 million unique visitors a month. It's even hatched a recruitment site for architects and designers, and a watch store—yes, a watch store.
A frequent BBC guest and an international lecturer, Marcus proved to be a solid candidate for our favorite question: What are you reading?
I mostly use Flipboard as part of my role as editor-in-chief at Dezeen, to keep an eye on what's going on in architecture, design, style and interiors around the world. It's a great way of managing multiple media sources in one place and ensuring we never miss a beat. I don't really have a Flipboard routine but the iPad is usually lying somewhere on my desk and I just pick it up and browse, usually while simultaneously working on my laptop.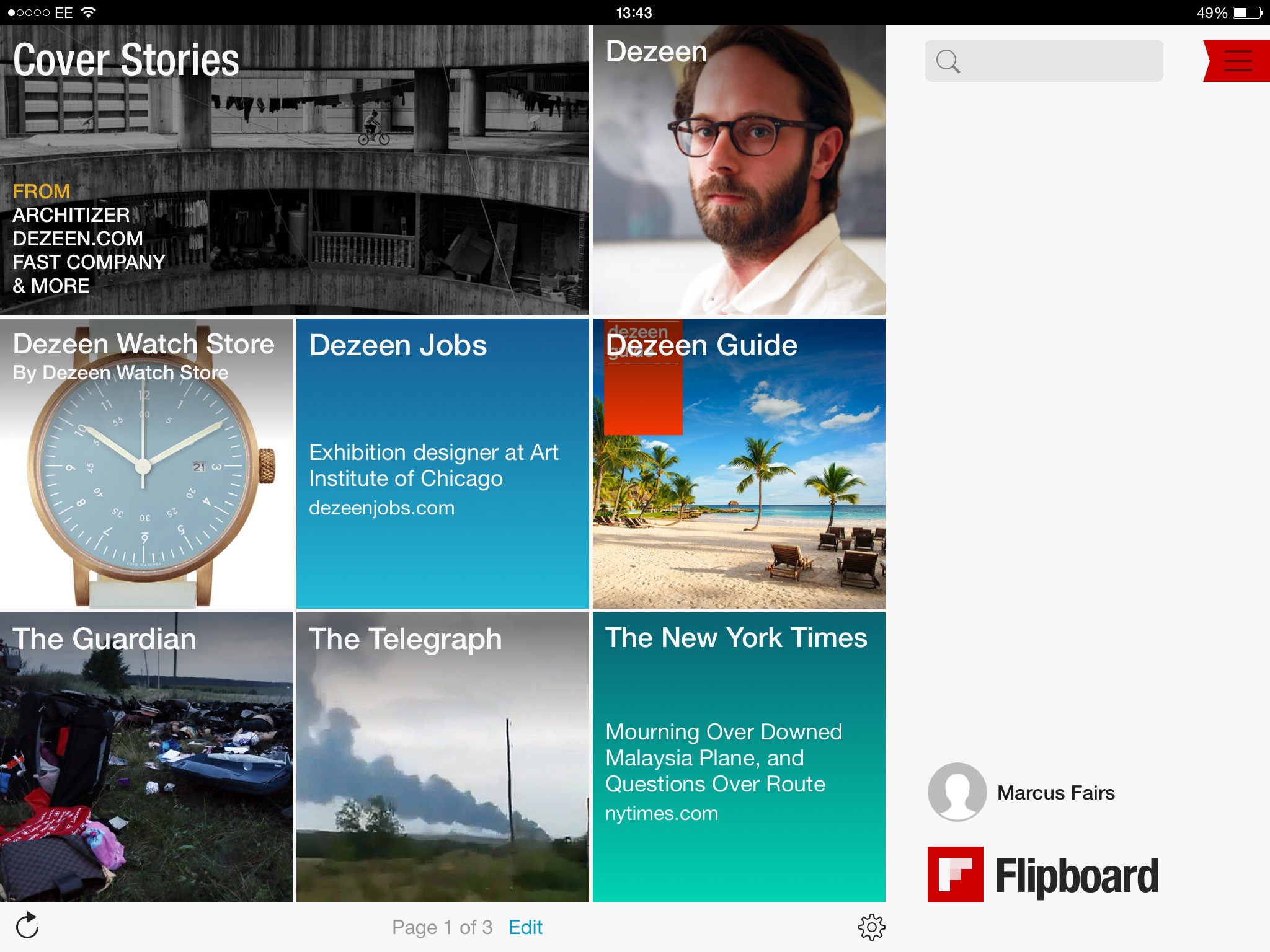 The tiles on my home screens are arranged pretty haphazardly but they are vaguely arranged into a number of groups. First come all of Dezeen's various content streams, such as our home page, our watch store and our jobs board. This allows me to see the latest content on all of them in one glance.
Next comes a bunch of international news sources because I'm a news junkie and constantly dip in and out of publications such as The Guardian, The Telegraph and The New York Times. I actually prefer British newspapers to U.S. ones as I find the writing style lighter and more accessible and their content more global in outlook.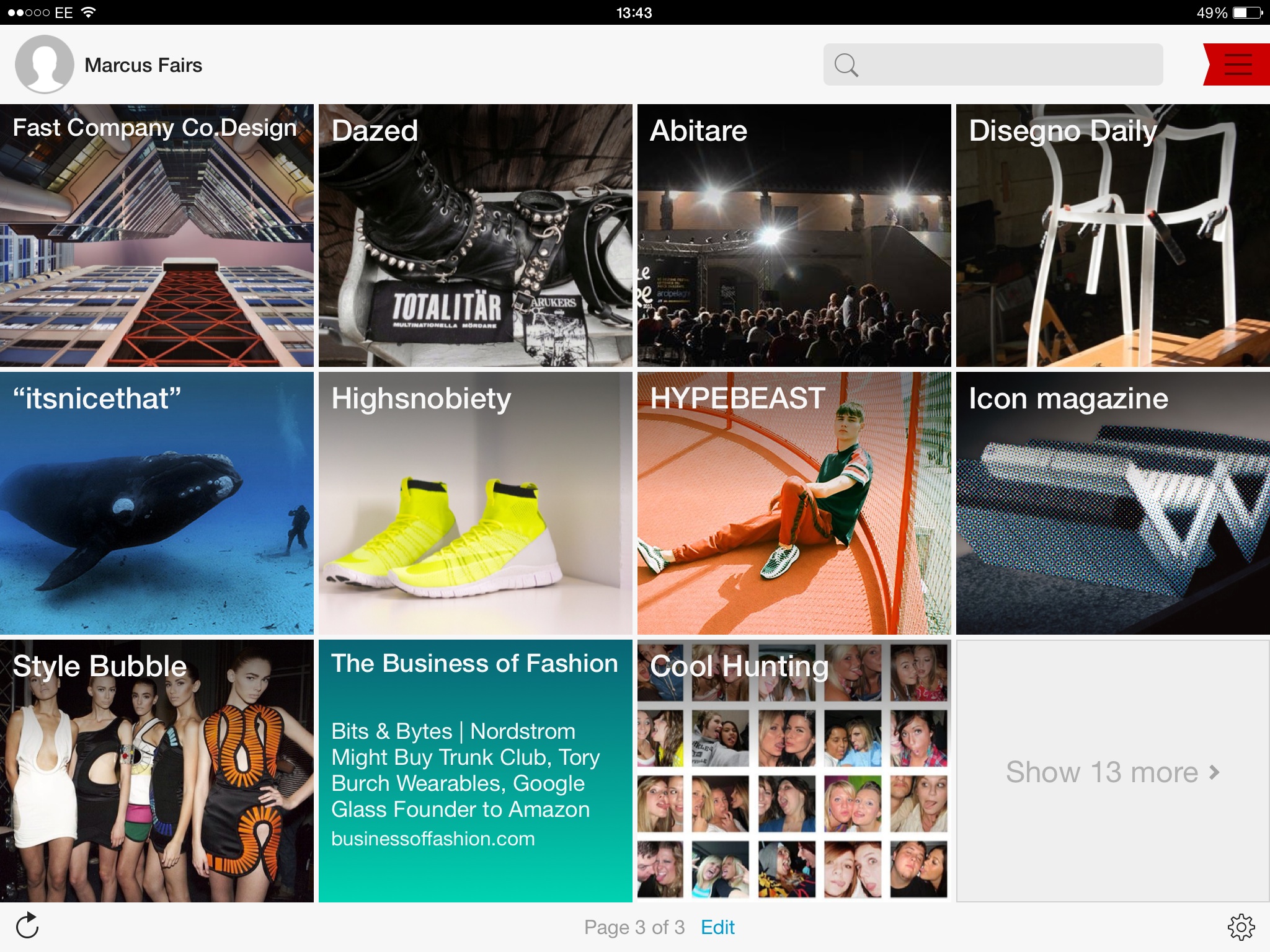 Next up are some of my favourite tech and media sites, particularly The Verge and The Drum, which is great for UK-centric media news.
Then I have a whole host of sources covering areas that overlap with what Dezeen covers, including style magazines, architecture websites, fashion blogs and so on. My taste is very eclectic and very visually driven, so I'll dip into sources that lead with great imagery mostly. I'll forward stories to the editorial team when I see something that we should be covering, or just follow my nose and end up somewhere unexpected.
Sources I particularly rate include:
Business of Fashion: Great for a behind-the-scenes glimpse of the fashion industry and the personalities that drive the business side of the industry.
It's Nice That: They've got a unique tone and a different take on things compared to Dezeen, since they focus more on graphics, photography and art direction.
Disegno: I follow [them] via Twitter (@disegnodaily); good for in-depth features about events, books, fashion and design. There's great depth and quality to everything they do.
Dazed: For street style and urban culture—plus the Dazed team are the most fun media bunch I know to hang out with, so it's enjoyable keeping tabs on their antics.
Huh Magazine: Another favourite for its eclectic mix of fashion, design, tech and lifestyle.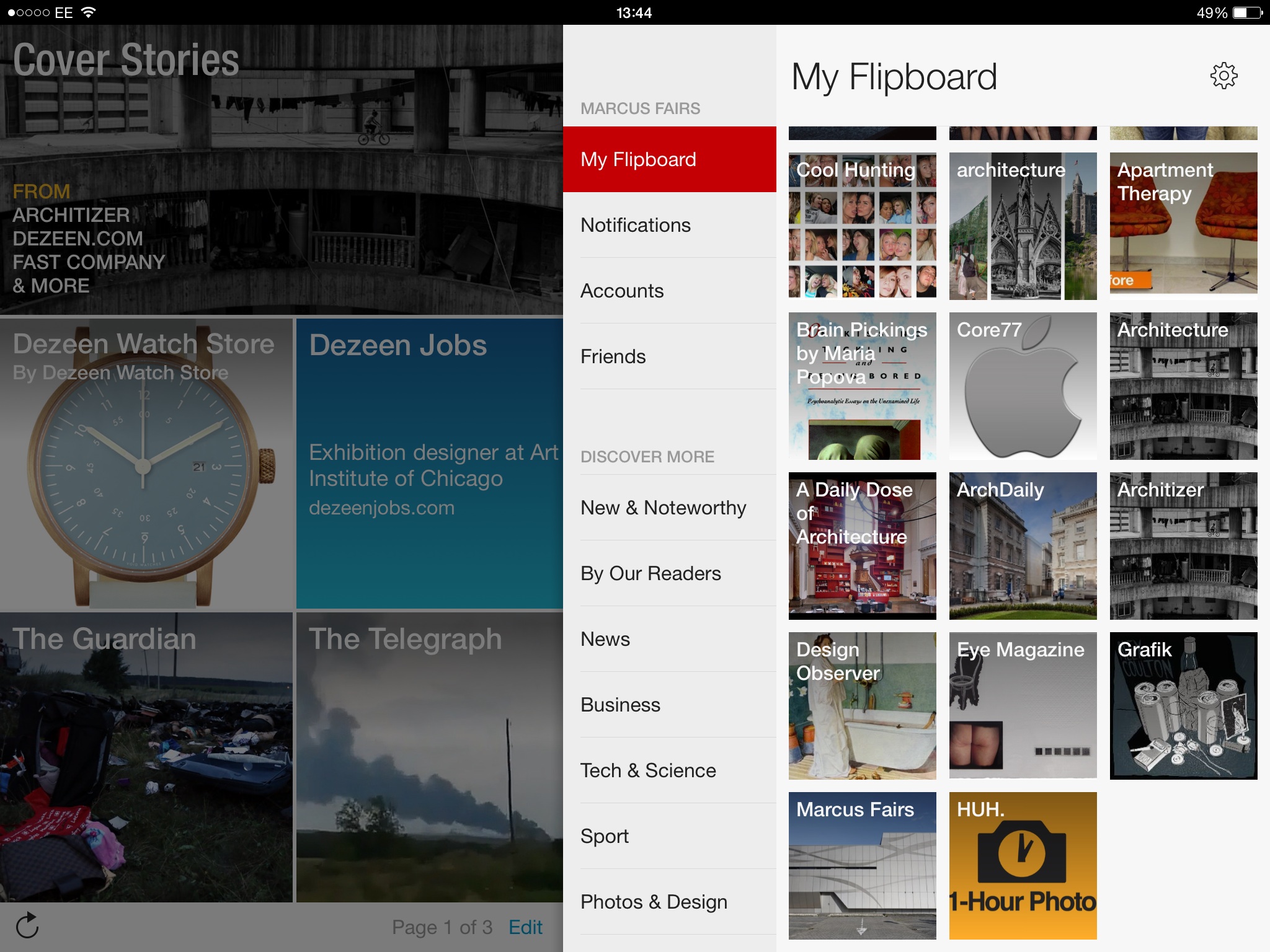 I realize that most of the titles I've highlighted are based in London, many of them very close to the Dezeen offices in Hackney.
London is well known for its burgeoning tech scene but should also be far better known for the incredible diversity of dynamic young media businesses here. There's a fantastic media scene and a friendly rivalry between titles. It's great to see them all doing so well and it's great to be able to big up the London scene!
For a single resource that melds architecture and interior design, flip through the pages of Dezeen on Flipboard: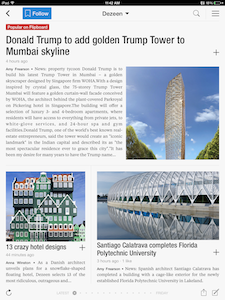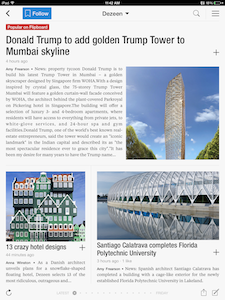 ~ShonaS is reading "Art & Culture"
/flipboard
@flipboard
+flipboard